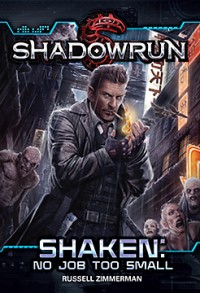 Most folks see Puyallup as the worst Seattle's got to offer; a tangled mess of metahumanity and greed, poverty and ghettoes, vice and corruption, where the crime is more organized than the government. They call it a Barrens, an armpit, a cesspool.
Jimmy Kincaid, though, calls it home. Walking the line between the shadows and the desperate light, semi-legit like only a Puyallup brat and former cop can be, he insists Puyallup has a heart and a soul, that it's a place of life, magic, and starving hope. A former combat mage, now as burnt out as his neighborhood, he does what he can to police the worst excesses of the crime-riddled city he loves.
In the darkness of the Seattle Sprawl, what's one more murder?
To Kincaid, it's everything. He's got a dead mentor, a hermetic group in need, and a mysterious file that might have been worth killing for. To unlock the data and get a little justice, he'll face the worst the Sprawl has to offer, wading through blood, darkness, and a murderous web of lies.
It's a good thing he's got friends—in high and low places…
eBook Availability
Shaken (No Job Too Small) is available from the following eBook/PDF vendors:
Unable to find the novel at your local game/book store? Order direct: