The following Shadowrun books are on the upcoming schedule (in no particular order). When we have street dates and previews, those will be posted to the blog page.

Run Faster (Core Player Handbook)
Every step, every advantage, every millisecond counts. The streets of the Sixth World are mean, and if they want to stay alive, shadowrunners need every advantage they can get to gain a step on the opposition. Fortunately, Run Faster is full of them. With it, you can learn about more metatypes for characters, including hobgoblins, giants, centaurs, and sasquatch; acquire new qualities, such as Disgraced, Hawk Eye, and Lightning Reflexes; and, if you dare, dabble with the dangerous and deadly Infected.
Run Faster also has advice on fleshing out characters of different metatypes, expanded contact and lifestyle rules, and alternate character creation methods to help ensure that players can build exactly the character they want.
All these options make Run Faster a crucial companion to players who want to get the most out of their Shadowrun, Fifth Edition core rulebook.

Crimson (A Novel by Kevin R. Czarnecki)
Thanksgiving, 2075. Shadow running vampire-mage Rick "Red" Lang used to make his living hunting dangerous insect spirits and twisted mages, but when he awakens after twelve years of involuntary hibernation, he finds the rest of the world has gotten even stranger.
Red begins piecing together what had happened during his lost time–and who put him under in the first place. But as he journeys through the neon-drenched ruins of Chicago and its augmented facades, Red uncovers an even larger plot involving eldritch forces seeking to invade from beyond our reality. He teams up with the few allies he can trust–Pretty, a beautiful ghoul, and Slim, a hacker extraordinaire–as they head into the middle of multiple schemes and power players surrounding a dangerous new conflict threatening to shatter the uneasy peace into all-consumings chaos.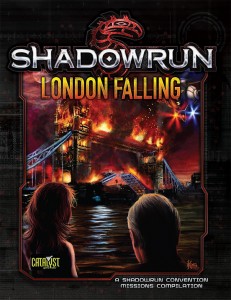 London Falling (Compiled Convention Adventures)
London—where the thick fog (sounds nicer than smog, doesn't it) makes for some truly deep shadows. Every crooked street, every cramped building holds a secret or two, as well as a person or two who will go to great lengths to ensure those secrets are kept. There is, for instance, the dark secret of a minor noble who has not been seen in Parliament in months. And the researcher who has a startlingly large amount of people interested in his work. The courier who carries one secret in his head and another in his gut. And an explosive secret that has been festering in the West End Underplex for years or even decades.
Skilled runners have the chance to uncover these secrets and more, but they'd better be ready for the forces of the world that would prefer to keep things covered up. They are tenacious, dangerous, and, perhaps most surprising for England, not at all polite.
London Falling features four adventures for Shadowrun set in London. Initially designed especially for gaming conventions, these adventures are now available to all players who want to dive in and see if they can survive the challenges of the Big Smoke.
London Falling has stats that allow it to be compatible for both Shadowrun, Fifth Edition and Shadowrun, Twentieth Anniversary Edition.
Borrowed Time (A Novel by R. L. King)
JackPointer mage Winterhawk left the shadows at the top of his game: these days he indulges his curiosity about all things mysterious and magical on his own terms. But he's about to discover that the shadows are hard to leave behind, and old enemies have their ways of drawing him back in.
Dosed with an exotic arcane poison that will kill him in days unless he retrieves a powerful magical artifact, 'Hawk has to assemble a team fast and think even faster, because he's not the only one tracking down the prize. His team is hardly the well-oiled machine he's accustomed to: an old friend with major trust issues, an old rival who hates everything 'Hawk stands for, a decker who annoys everyone he meets, a samurai who's only in it for the money, and a gunslinger who may have her own agenda.
With his life on the line and the clock ticking fast, 'Hawk must survive the mean streets of Los Angeles and the magical hellscape of the Australian Outback while keeping his mismatched team from imploding before they finish the job. But when the artifact is revealed to be far more than it seems, Winterhawk is forced to make a choice that could affect the lives of millions—to say nothing of his own.

Lockdown (A Crossover Plot Book)
The voices are getting louder. Strange voices, dissonant voices, sometimes babbling nonsense, sometimes telling stories too unbelievable to be true. People are falling prey to the voices, losing their identities as someone or something else slips into their skin. It's affecting people at all levels of society, from squatters in burned-out warehouses to corporate CEOs. It's spreading, and no one can figure out how to stop it. Boston-based NeoNET is at the center of this storm, and panic is spreading through the streets of the northeastern sprawl. People are scared and people are dying, which means that there are large sums of money to be made by any shadowrunner willing to brave those chaotic streets. Finding work won't be the problem. Getting out of the sprawl, however, will be.
Lockdown is a plot sourcebook for Shadowrun, Fifth Edition with plot hooks, setting details of Boston, character details, and surprising reveals that will keep characters on their toes and running for their lives. With rich plot information and game mechanics for a new breed of cognitive fragmentation disorder sufferers, Lockdown can play a vital role in enthralling Shadowrun campaigns while continuing the unfolding story of the Sixth World.
Deniable Assets (A Novel by Mel Odom)
Shadowrunner Katar Hawke knows the score on the streets. Every job is to be executed as swiftly and simply as possible—no muss, no fuss, and with as little help as possible. But when a simple extraction of a seemingly ordinary grad student from a Central American dig goes south in a big way, Hawke has to keep them both alive while he figures out what he's stumbled into—and how to get out of it in one piece.
But nothing about this shadowrun is remotely ordinary. The student, Rachel Gordon, has uncovered lost writings that may point to an artifact linking the Sixth World and the long gone, magical Second World. The discovery sets off a lethal chain reaction of feuding megacorporations and cold-blooded killers who will do anything to get their hands on her and what she knows. Caught in the hardest of hard places, Hawke must break his cardinal rule and assemble his own shadowrunning team to survive what's coming at him. But in the end, it all comes down to one question: will he sell out Rachel to the highest bidder, or join her quest to find a true artifact that could change the face of the Sixth World forever?
Bloody Business (Campaign Book)
A scared megacorporation does not run and hide in the shadows. Instead it lashes out, swiping with sharp claws, not caring who gets caught by the blows. Many of the megacorps are currently reeling, hit by multiple harsh blows. NeoNET and Evo are dealing with the fallout of the CFD virus, Ares has powerful forces eating it away from inside, Horizon backed the losing side of the Aztlan-Amazonia war, and the Japanacorps are rearing back to take on the world—and each other. When the corps get aggressive, shadowrunners get called, and blood gets shed. In this campaign book, players have a chance to earn piles of money from the megacorps, and then use their best moves to survive long enough to collect it.
Bloody Business is a campaign book for Shadowrun, Fifth Edition.

The Battle of Manhattan (Adventure)
Come to Manhattan. We will pay.
We won't bother with appeals to patriotism, or to your best instincts, or to anything the least bit noble. Come to Manhattan because there is a fight breaking out. Fighting is what you are paid for. Fighting is what you were born for. Come because there is money to be made.
You don't need to pick a side. Sides shift, sides change. In the end, the only consistent thing is that you are the only one you can count on. You fight for yourself. That is something you should be used to. That is how you live.
Come to Manhattan because the corporations are spoiling for a fight. Most of the time, we're good at keeping our spats clean and civilized. We lie, we cheat, we steal, but we do not engage in anything as vulgar as open street fighting. Sometimes, though, we can't help ourselves. Sometimes, the tension gets to be too much, and it breaks, and it bursts into the open.
That time is coming.
Bring your skills, bring your wits, and definitely bring your guns. You'll need everything you got. We are anxious to take advantage of what you have.
Come to Manhattan. We're waiting for you.
The Battle of Manhattan is the third in the Boardroom Backstabs series of adventures; includes stats that allow it to be compatible for both Shadowrun, Fifth Edition and Shadowrun, Twentieth Anniversary Edition.
Data Trails (Core Rulebook Expansion)
The last great undiscovered country is vast, wild, and weirder than you can possibly imagine. And it's nearby, waiting, accessible by the press of a button, or a simple gesture, or even just a thought. The Matrix holds a whole lot more than selfies and cat videos—it has artificial intelligences, electronic ghosts of people formerly alive (or perhaps still living), and deep wells of pure data that can swallow you whole. Oh, and a copy of every secret ever recorded electronically. The possible rewards of exploration are great, and the dangers are greater.
Data Trails is the Matrix sourcebook for Shadowrun, Fifth Edition, offering more options for decker and technomancer characters, including qualities, programs, gear and more. With detailed examinations of hacker culture, information on diving deep into immersive hosts, and briefings on the strange sites hidden in dark corners of the Matrix, Data Trails is a vital resource for any Shadowrun players involved in the omnipresent flow of information. Non-Matrix specialists have chances to get in on the adventures as well, with game details explaining how their skills and expertise translate into the wild virtual world.
Data Trails is for use with Shadowrun, Fifth Edition.