During this time of an absence of Conventions and the continued need to social distance, Catalyst brings you the following package of two great new products!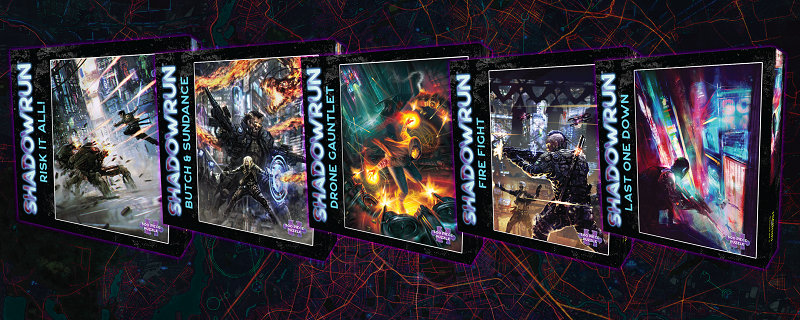 PICKING UP THE PIECES! Pre-order from our first-ever series of jigsaw puzzles for Shadowrun, printed right here in the USA! Five different images, done in high-quality foil and cut to a 500-standard piece puzzle. Each assembled puzzle is 18″ x 24″ and suitable for framing when complete. These puzzles are all limited to foiled print runs of 1000. Once they are gone, that's it. These are a "while supplies last" offer. If they appear again, they will be in standard paper, not foiled. (Expected ship date is 7/1/20.).
Who says you can't socially distance AND enjoy Shadowrun?
PRE-ORDER AT:
https://store.catalystgamelabs.com/products/shadowrun-limited-edition-foils
FRAME JOBS! Pre-order this set of five jigsaw puzzles before June 22, and your order will include five fully-foiled posters. The set comes rolled in a tube, ready for framing! Each poster is 18″ x 24″ and shows off the same art being used in the puzzle collection! Made in the USA. Expected ship date is 7/1/20.